Bayside Sunset Milonga - with TACOS!
Saturday, 20 August 2022, 3-9pm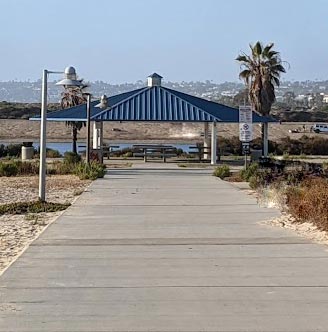 Have you ever danced next to the ocean? Here is your chance at our outdoor milonga in the incredible beauty of San Diego! Your feet will be caressed by our portable dance floor, while your soul is caressed by the traditional tango of Tijuana local DJ Aarón Quetzal Diaz.
Tacos are provided to fuel your dancing. Yes, Tacos! Cooked on-site by Taquizas José .
Bring a bathing suit and beach towel if you want to dip in the bay between tandas. Dancing in swimwear is acceptable, but not required! Sunglasses, a hat and sunscreen are a must: the dance floor is covered by the gazebo but you will want to spend time on the beach. Fireworks at 9pm.
Tacos!
Covered gazebo with a dance floor.
Traditional tango music.
Beach bonfire at sunset.
Fireworks at the end of the milonga.
Easy parking, or a 15 minute walk (3/4mi) from the main venue/light rail station.
Cool sea breezes and warm embraces.
Did we say ... Tacos?!?!