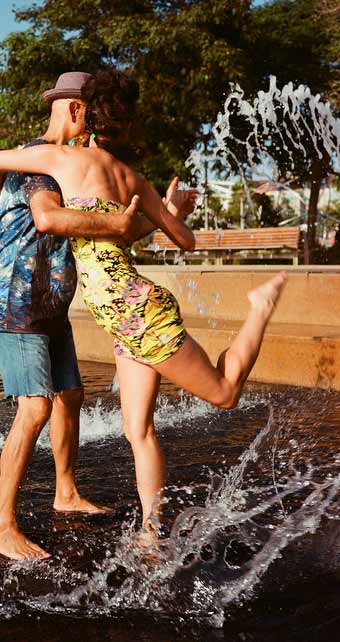 Fountain Play on Friday
Registration is closed for 2023. Subscribe to our newsletter to be first to know when we schedule 2024
Enjoy a beautiful tango vacation in San Diego, America's Finest City! A unique experience, with open air tango every day, and traditional indoor milongas too. Don't miss this weekend of one of a kind tango events. Cool sea breezes and warm embraces.
Beautiful venue with evening dances under the stars.
Sunset milonga on the beach on Mission Bay.
Friday Earlybird fountain play tango in Waterfront Park, for everyone. A dry surface is available if you don't want to get wet.
Great DJs.
Very close to our light rail. Easy access from the airport. No need to rent a car. There are several hotels one stop away on the light rail. Ample parking nearby for those who drive.
Close to a wide range of hotels from luxury to budget.
Abundant food, gourmet coffee, and lots of culinary surprises!
Just dancing. No classes or shows... Your fantasy tango experience in beautiful San Diego awaits you. Don't miss out!